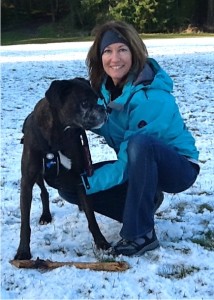 Leanne McConnachie joined the AWFC Board in 2012. After graduating from the University of Victoria in 1988 with a B.A. in Economics, Leanne pursued a business career in the information technology sector. She held management positions in marketing and communications, product development, business development and sales. After working 15 years in this sector, Leanne decided to combine her business skills with her passion for animals and pursue a new career path.
She joined UBC's graduate program in Animal Welfare in 2004, completing her Master of Science degree in 2007. For her thesis, Leanne developed the PREP Framework to assist donors and foundations to better assess the effectiveness of animal welfare organizations in order to improve their philanthropic decision-making. PREP stands for Philosophy, Red Flags, Efficiency and People.
From 2008, Leanne joined the Vancouver Humane Society as their Director of Farm Animal Programs and was responsible for Chicken OUT! – an initiative that aims to phase out the use of battery cages to house egg laying hens. By educating the public about the animal welfare issues associated with the use of cages, Chicken OUT! successfully encouraged at least eighteen post-secondary schools in Canada and 14 BC municipalities (including the cities of Vancouver, Richmond, Burnaby, Victoria and the Metro Vancouver Regional District) to oppose battery cages and to adopt cage-free egg purchasing policies for campus and city-run food facilities and events. As well, over 80 restaurants in Metro Vancouver and Victoria now serve only cage-free eggs.
Leanne also spearheaded an in-store egg label and signage campaign with a major Canadian grocer to implement shelf labels that describe the behavioural and housing attributes resulting from the various types of egg production.This includes shelf signage that states which cartons contain 'eggs from caged hens' – a first in North America. By the end of 2014, BC boasted the highest percentage of cage-free egg production in Canada, with over 15% of provincial production coming from cage-free farms, as compared to less than 5% in all other provinces.
Leanne left the Vancouver Humane Society at the end of 2014 to enjoy some travel time with her husband, but she continues to be involved with the humane sector through her volunteer work with AWFC and as a member of the Vancouver Foundation's Animal Welfare Expert Panel (which reviews proposals from and provides grants to BC-based animal welfare charities).