The AWFC encourages people to place a priority on the physical, psychological, and behavioural needs of all animals used in research, education, and in agriculture, as well as companion animals and wildlife. In other words, the AWFC seeks to change the way that Canadians think about using and caring for animals. We must consider first what animals need for a life worth living before they are used to improve the lives of others.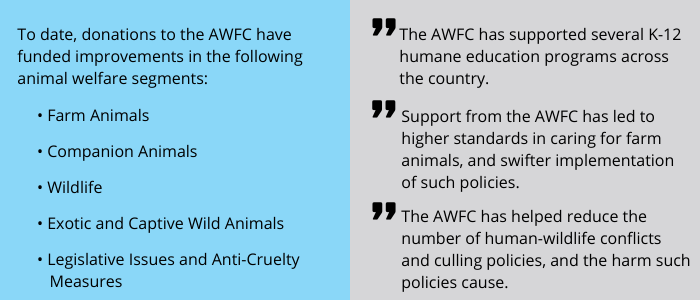 That all animals be well cared for and treated with respect, and that an enlightened ethic of animal care be fostered.

Achieve measurable positive change in improving the lives of animals in Canada, through funding innovative educational, research and public outreach initiatives. 

Successfully manage and allocate donated funds to ensure all animals are well cared for and respected as sentient beings.

Support programs that improve the welfare of animals in Canada.

Promote initiatives that have a national impact on the welfare of animals in Canada.

Strategically allocate the AWFC's resources to fund projects that can be copied and used by other organizations to improve welfare in their regions.

Preferentially support activities that are difficult to fund, or that are not typically funded by other granting agencies, but have significant potential to improve animal welfare.

Promote activities that enhance the visibility and long term viability of the AWFC.
Work collaboratively with individuals and animal welfare organizations to implement and leverage shared goals, recognizing the value that diverse perspectives can bring.
Recognize that animal welfare, human wellbeing, and a healthy environment are inextricably linked.
Ensure sound organizational governance principles guide prudent management of finances and the timely succession planning of Board members.
Compose a Board of individuals with diverse skills and backgrounds from across Canada to ensure that vital decisions addressing nationwide animal welfare concerns are reached with considerable acumen and expertise.
Respect the principles of equity, diversity, and inclusion, and incorporate changes into our granting processes and organizational practices that meaningfully consider these principles through a lens of continual improvement.
Please join us in fostering compassionate care for the benefit of all animals. Complete a donation form by clicking here. Once you complete your donation, an electronic tax receipt will be issued and emailed to you by CanadaHelps.org, a digital platform that helps registered Canadian charities like ours easily, securely and cost-effectively accept online donations.
THE ANIMAL WELFARE FOUNDATION OF CANADA is a Canada Revenue Agency registered charity, number 11878-7290-RR0001.
---
To learn more about the activities of the AWFC, see our annual Presidents' Reports below:
HOW TO DONATE
Donations can be made online via our digital donations partner CanadaHelps.org, or by cheque, mailed to:
The Animal Welfare Foundation of Canada
#643 – 1231 Pacific Boulevard
Vancouver, BC V6Z 0E2
.