PRESIDENT'S REPORT 2020-2021
At our meeting last April, I expressed my concern of the unknown operational and financial repercussions animal welfare charities could experience as a result of the pandemic. Fortunately, it appears most of these concerns did not materialize. Some experts have even suggested the pandemic may have increased support for the humane movement in general as it highlighted the interconnectedness of animal and human health and well-being.
It is thus with humble gratitude I can report the AWFC has experienced an increase in the number of donors and donation revenues this past year to help us fulfill our mission.
As a public foundation, the AWFC raises and invests donor funds in order to support worthy animal charities and projects across the country each and every year. Our grant program accounts for 2/3 of our expense budget, allowing us to award $40k in grants in most years. For 2021, we received proposals from 17 organizations and awarded $37,360 in grants to the following 6 organizations:
• $10,000 to the Toronto Humane Society
• $9,430 to Sierra Club Atlantic
• $8,000 to the Vancouver Humane Society
• $5,000 to the Langley Animal Protection Society
• $3,880 to Le Nichoir Wild Bird Conservation Centre
• $1,050 to Humane Canada
Project summaries for each of the grants can be found on the awfc.ca website.
Due to pandemic school closures, we did not receive any applications this past year to fund university animal welfare clubs, campus public lectures or the Minshall award. These funds will be reinvested and directed to future programs. We did however provide a small grant through the Carol Morgan Memorial Award to Dr. Laurie McDuffee to study the science behind the human-animal bond.
Thank you to the members of our Grant committee for the many hours they spent diligently reviewing the applications. The work of the Grant Committee is the most important role we perform. It is through this process that the AWFC can assure animal lovers that their donations will be allocated to credible, effective projects that will deliver measurable positive outcomes for animals. It is the reason the AWFC exists, and we hope our supporters are pleased with the decisions we've made on their behalf.
Speaking of our supporters, although on an absolute basis our one-time and monthly donations are still small in comparison to many other charities, growth relative to previous years' donations has been amazing. We are also seeing continued growth in Q1 of 2021.
I also want to acknowledge many of the past and present AWFC Directors who donated to the AWFC this year. As Directors, we already volunteer so much of our time and expertise to running and maintaining the AWFC that your collective financial contributions were an added bonus!
In the summer, we were fortunate to receive a generous bequest from the Estate of Don Reid, who passed away in March 2019. I'd like to extend heartfelt appreciation to Mr. Reid's family and friends for choosing the AWFC on his behalf. As with all bequest gifts, these funds are added to our Legacy and Capital Fund endowment to be invested in order to generate further income for future grants.
Thank you to all our donors who so graciously help animals and support the humane movement across Canada through their contributions to the AWFC.
In terms of our financials, investment income from our endowment performed well this past year, despite the pandemic, generating a surplus of $120k ($60k over what was budgeted). This income accounts for the majority of all AWFC annual revenues and is thus critical to supporting our grant program while we continue to grow our donor base.
I'd like to recognize our Finance Committee for its wise oversight of our revenues, expenses and invested assets. Thanks to the growth in donor contributions, solid investment returns, fewer university-related grants awarded and maintaining low operating costs, the AWFC currently finds itself in a good financial position. So long as there are no major economic downturns post-pandemic, we hope to use some of this year's surplus to increase the grant funds available in 2022 and beyond to support either more animal charities or provide larger grants to even more impactful projects.
More specifically, I'd like to extend a huge thank you to John Andrew who joined the Board as Treasurer in 2015. His continued commitment to the role these past 6 years will provide the consistency, stability and historical background to support the new Board and keep the organization running smoothly and efficiently.
I also want to acknowledge the very busy members of the Communications and Fundraising (C&F) Committees who invested much time in communicating and advertising our work to animal charities and the public. Many updates and improvements were made to our website and we experienced a significant increase in viewership this past year. An overhaul of our aging website is planned for this coming year to eliminate its technical limitations. Bi-monthly Facebook posts and ads attracted 900 new followers to our page, now totalling close to 4k followers. Marketing efforts also included a bequest brochure mailing to current and prospective donors and planned gift advisors, and advertising and article placement in print and online magazines and donor guides.
Thank you as well to our Visioning Committee for staying on top of the latest public opinion polls and animal welfare research findings. This effort ensures the AWFC's goals remain relevant with, if not ahead of, changing societal values and attitudes about animal welfare.
I also want to thank our Board Secretary for her role in managing our email inbox inquiries, coordinating grant applications and for recording our meeting minutes.
Finally, as with every AGM, it is time to welcome new members to the Board as other directors prepare to leave. I am grateful to the Nominations Committee for doing such a fabulous job in identifying and recruiting 4 new candidates to the Board this year. I am thrilled with the diverse backgrounds and incredible experience they each bring to our organization. I look forward to seeing where the new Board takes the organization in the years to come.
Sadly, however, this means we must say goodbye to several people whose board terms have now come to an end: Jackie Wepruk, Nicolas Devillers and Cathy Dixon. Jackie, Nicolas and Cathy, I want to thank you sincerely for the time, knowledge and perspectives you have all contributed to the various committees on which you have served. We will miss your input and I wish you all well in your personal and professional endeavours.
As for me, it is with mixed emotions that I too must say goodbye after more than 8 years on the Board. I have been with the AWFC since 2013 (3 years as Board Secretary, 1 year as VP and 4 years as President). The work has been rewarding and I have valued greatly the opportunity to work with and learn from so many esteemed colleagues who share in our common goals and compassion for animals.
Of course it would be much more difficult to say goodbye if it wasn't for the complete confidence I have in the new Board and, in particular, our VP Amy Morris, who will be taking over as President at the close of this AGM. I know I am leaving the Board in very capable hands.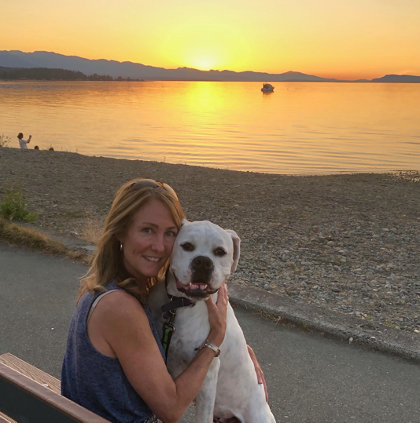 The AWFC has been going strong since 1965 thanks to the generosity of our donors and the incredible calibre of people we continue to attract to the Board. When I look back at the various grants we've given over the years, I know our collective support of animal charities and projects across the country has made a real impact in the lives of animals. I care deeply about the mission of this organization and it has been an honour and privilege to serve on the Board. I am proud of how we've grown and the many changes we've incorporated to ensure the organization's future success. I trust the original founders would be proud.
Leanne McConnachie
AWFC President, 2018-2021
You can use this form to donate to support our work. We are so grateful for your gift, which will enable us to keep providing grants to make a lasting change for animals:

________________________________________________________________________
PRESIDENT'S REPORT 2019-2020
PRESIDENT'S REPORT 2018-2019
President's Report 2017-2018
President's Report 2016-2017
President's Report 2015-2016
President's Report 2014-2015
President's Report 2013-2014
President's Report 2012-2013
President's Report 2011-2012
President's Report 2010-2011
President's Report 2009-2010
President's Report 2008-2009