Dr. Jamie Ahloy Dallaire has been doing research on the behaviour and welfare of farm and laboratory animals since 2008. He completed his graduate studies at the University of Guelph, working on abnormal behaviour, environmental enrichment, and juvenile play in farmed mink and other species. As a postdoctoral researcher at Stanford University, he worked primarily on pain assessment and aggression between males in mice used in medical research.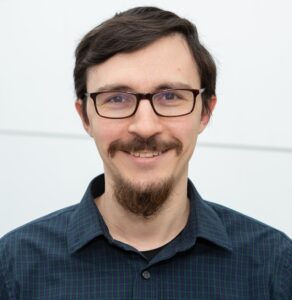 Since 2018, Dr. Ahloy Dallaire has been an Assistant Professor in the Department of Animal Science at Université Laval, in Québec. He teaches undergraduate and graduate classes on animal ethics, behaviour, and welfare, and supervises a research program focusing primarily on determinants of resilience and robustness in farmed pigs.
Dr. Ahloy Dallaire sits on his university's animal care and pedagogical merit review committees for animal-based research. He additionally participates in welfare standards development for research animals, with the Canadian Council on Animal Care, and for farmed animals, with the National Farm Animal Care Council. He has been a member of the AWFC Board since 2021.