2022 – The University of Guelph's Campbell Centre for the Study of Animal Welfare (CCSAW) – Prof. Georgia Mason
For around a decade CCSAW has been running monthly welfare science seminars, bringing outside speakers for a largely student-based audience. Two public lectures were funded by AWFC. The first one was held on November 9th 2022 on the human factors that either foster or get in the way of improving animal welfare. The second lecture will be held on April 2023 and will build on the first lecture via some real life scenarios and lessons learned by/for Canadians who are trying to improve dairy cattle, equine and laboratory animal welfare.
2022 – Sir James Dunn Animal Welfare Centre's (SJDAWC) Animal Welfare in Practice Symposium – Prof. Kathryn Proudfoot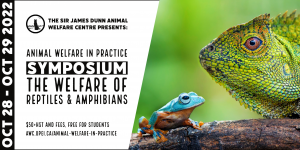 The Sir James Dunn Animal Welfare Centre held its 17th annual symposium which highlighted research on the welfare of reptiles and amphibians presented virtually on October 28 and 29, 2022. Dr. Anna Wilkinson, Professor of Cognition from the University of Lincoln, started off the symposium by presenting on "Cold-blooded care: Understanding the needs of captive reptiles". Dr. Wilkinson explained that most people do not think of reptiles as intelligent, compared with other animals like apes and dogs. This perception may result in potentially poor environments for reptiles that do not meet their needs. There were 91 registrants (no charge to 55 students and 36 paid registrants) which attracted veterinarians, veterinarian technicians, students and other interested parties joining from Canada, United States, Mexico, Slovakia, and Hungary.
2021 – Due to pandemic restrictions/school closures, no applications were submitted this year.
2020 – no applications submitted
2019 – UBC STRATTON MEMORIAL LECTURE

"The Future of Animal Welfare in Canada"
Panel Discussion:
Dr. Joanna Makowska, UBC
Dr. Diego Moya, University of Saskatchewan, Western College of Veterinary Medicine
Dr. Sasha Protopopova, Texas Tech University
Dr. Charlotte Winder, University of Guelph, Ontario Veterinary College
2016 – UBC STRATTON MEMORIAL LECTURE

Temple Grandin, University of Colorado
"Maintaining High Standards in Animal Welfare"
The 2016 Stratton Lecture "Maintaining high standards in animal welfare" by Dr Temple Grandin was a tremendous success. The interest from the public and the University community was overwhelming. Dr Grandin's talk was fully subscribed two weeks before the event, with a waiting list of 164. Dr Grandin kindly allowed us to audio tape her talk, a link to which was sent to all those on the wait list. The talk was also broadcast on UBC CiTR radio, and the lecture was available as a podcast to the general public on the Faculty's website.
2014 – UNIVERSITY OF GUELPH BASIL CAPES LECTURE
Dr. Sandra Olsen, Research Associate in the Biodiversity Institute University of Kansas
"The Evolution of the horse-human relationship through time"
2013 – UBC STRATTON MEMORIAL LECTURE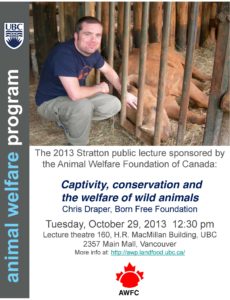 Chris Draper, Born Free Foundation:
"Welfare in a Conservation Context"
2012 – UBC STRATTON MEMORIAL LECTURE
Dr Becky Whay, Professor, University of Bristol, School of Veterinary Medicine
"Improving the lives of working horse (and their owners) in the developing world"
2010 – UBC STRATTON MEMORIAL LECTURE
Dr Ian Duncan, Professor, University of Guelph
"Animal welfare, a recent history"
2009 – UNIVERSITY OF GUELPH BASIL CAPES LECTURE
Dr. Peter Singer, Princeton University
"Animals and Ethics"
2009 – UBC STRATTON MEMORIAL LECTURE
Steve Ross, Lester E Fisher Center for Study and Conservation of Apes, Lincoln Park Zoo, Chicago
"Enriching the lives of zoo animals"
2008 – UBC STRATTON MEMORIAL LECTURE
10th Anniversary of the UBC Animal Welfare Program, alumni panel discussion:
Cassandra Tucker, PhD University of California, Davis
Carol Morgan, PhD, DVM, Veterinarian
Sara Dubois, MSc, BC SPCA
Julie Huzzey, PhD candidate, Cornell University
Leanne McConnachie, MSc, Vancouver Humane Society
2007 – UNIVERSITY OF GUELPH BASIL CAPES LECTURE
Dr. Michael Appleby, World Society for the Protection of Animals
"Why should we care about animals during times of crisis?"
2007 – UBC STRATTON MEMORIAL LECTURE
Prof. Larry Dill, Simon Fraser University
"Animal welfare and conservation"
2006 – UNIVERSITY OF GUELPH BASIL CAPES LECTURE
Dr. Bernard Rollin, Colorado State University
"Emerging social ethics for animals"
2006 – UBC STRATTON MEMORIAL LECTURE
Dr. Carla Forte Maiolino Molento, Universidade Federal do Paraná, Brazil
"Animal welfare and the control of stray dogs in Brazil"
2005 – UBC STRATTON MEMORIAL LECTURE
Dr Andrew Rowan, Executive VP Humane Society of the United States
"The animal protection movement in North America"
2004 – UNIVERSITY OF GUELPH BASIL CAPES LECTURE
Professor Vince Molony, University of Edinburgh
"Pain in Farm Animals: An investigation of how bad it is and what can be done about it"
2004 – UBC STRATTON MEMORIAL LECTURE
Dr Arnold Arluke, Professor, Northeastern University
"Understanding the no-kill controversy"
2002 – UNIVERSITY OF GUELPH BASIL CAPES LECTURE
Dr. Bo Algers, Swedish University of Agricultural Sciences
"Welfare and Efficiency: Can they be put together in piglet production?: A Swedish example"