2021 – Due to pandemic restrictions/school closures, no applications were submitted this year
2020 – no applications submitted
2019 – UBC STRATTON MEMORIAL LECTURE

"The Future of Animal Welfare in Canada"
Panel Discussion:
Dr. Joanna Makowska, UBC
Dr. Diego Moya, University of Saskatchewan, Western College of Veterinary Medicine
Dr. Sasha Protopopova, Texas Tech University
Dr. Charlotte Winder, University of Guelph, Ontario Veterinary College
2016 – UBC STRATTON MEMORIAL LECTURE

Temple Grandin, University of Colorado
"Maintaining High Standards in Animal Welfare"
The 2016 Stratton Lecture "Maintaining high standards in animal welfare" by Dr Temple Grandin was a tremendous success. The interest from the public and the University community was overwhelming. Dr Grandin's talk was fully subscribed two weeks before the event, with a waiting list of 164. Dr Grandin kindly allowed us to audio tape her talk, a link to which was sent to all those on the wait list. The talk was also broadcast on UBC CiTR radio, and the lecture was available as a podcast to the general public on the Faculty's website.
2014 – UNIVERSITY OF GUELPH BASIL CAPES LECTURE
Dr. Sandra Olsen, Research Associate in the Biodiversity Institute University of Kansas
"The Evolution of the horse-human relationship through time"
2013 – UBC STRATTON MEMORIAL LECTURE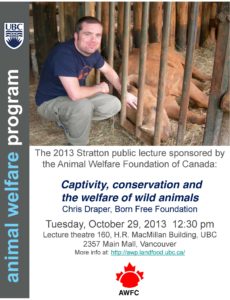 Chris Draper, Born Free Foundation:
"Welfare in a Conservation Context"
2012 – UBC STRATTON MEMORIAL LECTURE
Dr Becky Whay, Professor, University of Bristol, School of Veterinary Medicine
"Improving the lives of working horse (and their owners) in the developing world"
2010 – UBC STRATTON MEMORIAL LECTURE
Dr Ian Duncan, Professor, University of Guelph
"Animal welfare, a recent history"
2009 – UNIVERSITY OF GUELPH BASIL CAPES LECTURE
Dr. Peter Singer, Princeton University
"Animals and Ethics"
2009 – UBC STRATTON MEMORIAL LECTURE
Steve Ross, Lester E Fisher Center for Study and Conservation of Apes, Lincoln Park Zoo, Chicago
"Enriching the lives of zoo animals"
2008 – UBC STRATTON MEMORIAL LECTURE
10th Anniversary of the UBC Animal Welfare Program, alumni panel discussion:
Cassandra Tucker, PhD University of California, Davis
Carol Morgan, PhD, DVM, Veterinarian
Sara Dubois, MSc, BC SPCA
Julie Huzzey, PhD candidate, Cornell University
Leanne McConnachie, MSc, Vancouver Humane Society
2007 – UNIVERSITY OF GUELPH BASIL CAPES LECTURE
Dr. Michael Appleby, World Society for the Protection of Animals
"Why should we care about animals during times of crisis?"
2007 – UBC STRATTON MEMORIAL LECTURE
Prof. Larry Dill, Simon Fraser University
"Animal welfare and conservation"
2006 – UNIVERSITY OF GUELPH BASIL CAPES LECTURE
Dr. Bernard Rollin, Colorado State University
"Emerging social ethics for animals"
2006 – UBC STRATTON MEMORIAL LECTURE
Dr. Carla Forte Maiolino Molento, Universidade Federal do Paraná, Brazil
"Animal welfare and the control of stray dogs in Brazil"
2005 – UBC STRATTON MEMORIAL LECTURE
Dr Andrew Rowan, Executive VP Humane Society of the United States
"The animal protection movement in North America"
2004 – UNIVERSITY OF GUELPH BASIL CAPES LECTURE
Professor Vince Molony, University of Edinburgh
"Pain in Farm Animals: An investigation of how bad it is and what can be done about it"
2004 – UBC STRATTON MEMORIAL LECTURE
Dr Arnold Arluke, Professor, Northeastern University
"Understanding the no-kill controversy"
2002 – UNIVERSITY OF GUELPH BASIL CAPES LECTURE
Dr. Bo Algers, Swedish University of Agricultural Sciences
"Welfare and Efficiency: Can they be put together in piglet production?: A Swedish example"